Contact us
Office of Campus Sustainability,
Facilities Planning and Management
5454 Cass Avenue
Detroit, MI 48202
sustainability@wayne.edu
Program information is located on this site. If you have operational questions, please contact Facilities Operations and Maintenance at  313-577-4308.
Daryl Pierson, Sustainability Officer
Daryl M. Pierson leads the Office of Campus Sustainability (OCS) in its work toward implementing the university's environmental vision. Pierson seeks to engage the university community in sustainability awareness through informal education activities, conferences, workshops, seminars, special events, and promotional campaigns. As a result, the OCS helps increase understanding of issues involving the environment. In addition, Pierson works closely with Facilities Planning and Management on helping obtain energy reduction and cost efficiencies, recycling, LEED activities, and related green initiatives.
313-577-5068 | darylpierson@wayne.edu
Sustainability Interns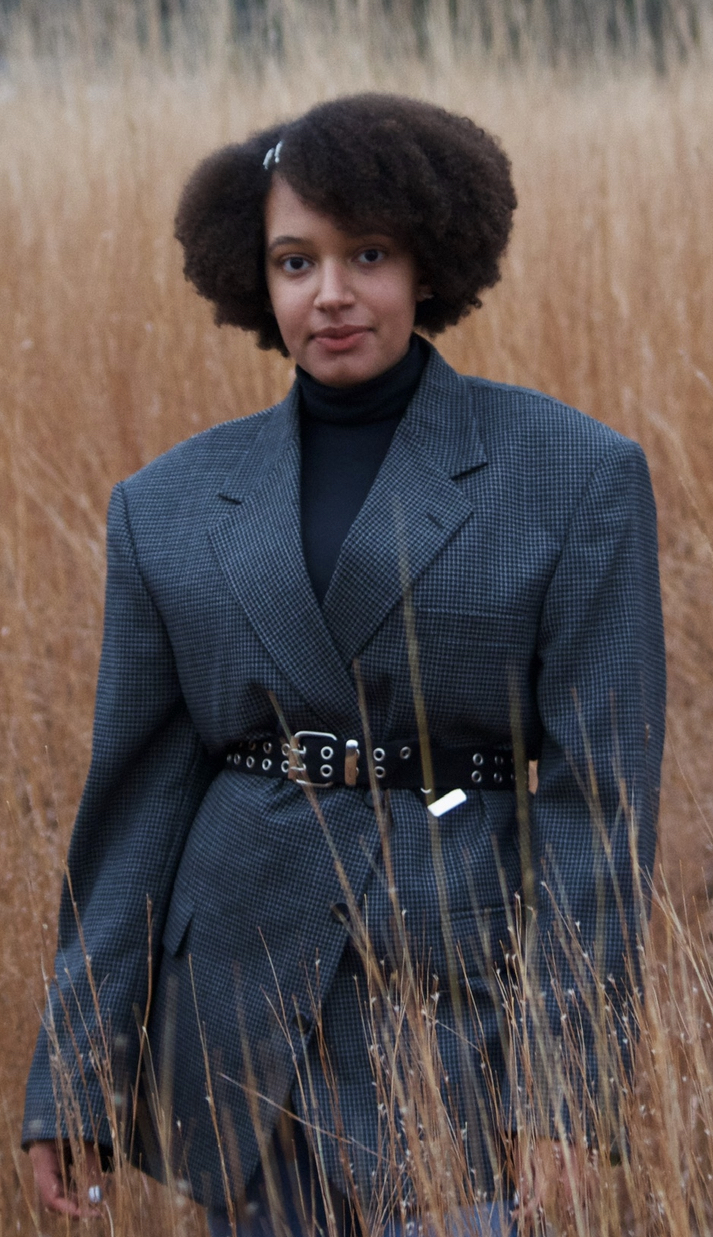 Madison Hollamon, Intern
Madison Hollamon is a Sophomore at Wayne State University Studying Fashion with a minor in Urban Sustainability. In her freshman year of college, she became involved with the Wayne State Sustainability Coalition and later began worked as an intern for the Office Campus Sustainability. Madison is interested in incorporating sustainability within design processes and practices while improving the community around her.  
 Email: gn6217@wayne.edu 
Camille Bedford, Intern
Camille is a senior at Wayne State studying urban planning as a major and German as a minor. She became involved with the Office of Sustainability through the Green Warriors program and worked with the Detroit Biodiversity Network on a few projects prior-to. Camille hopes to one day go into park planning or greenspace conservation to assure the everyone has equal and ample opportunity to engage with wildlife. She also looks forward to working with the University on green initiatives and exposing more students to sustainable practices.
Email: gg6456@wayne.edu

Grace Maves, Intern
Grace Maves is a Senior studying Environmental Science with minors in Urban Sustainability and Urban Studies. She started her experience with the Office of Campus Sustainability as a Green Warrior Student Ambassador and also through the student organization, Take Back the Tap, which helps with campus waste reduction efforts and clean water initiatives. Grace sees sustainability work as a way to re-connect humans with the natural environment and looks forward to doing that work on Wayne State's campus and the greater Detroit area. 
Email: gh1789@wayne.edu
Adam Lowis, Intern
Adam Lowis is a student in chemical engineering at Wayne State who was raised on a family farm in rural Michigan, fostering a great respect for the natural world and natural resources. Around 2010, he developed a fascination with the field of materials science and has been directing his efforts toward this discipline ever since. He hopes to engage in research and development that will contribute to a cleaner, safer, and more sustainable future. 
Email: alowis@wayne.edu
Green Warriors, Student Ambassador Group
The Green Warriors is group of student ambassadors with an interest in educating the campus community of sustainable practices. They work on campus outreach programs, promote sustainable activities, and work on miscellaneous projects through our office. Check out our Green Warrior page to learn more information about the program and how to get involved.  

Kamali Clora- gj5178@wayne.edu
Kamali is a fourth-year student in the Irvin D. Reid Honors College at Wayne State University studying Public Health with a music minor. He plans to pursue a career in healthcare administration and work towards developing equitable health in underserved communities. Kamali is the founder of Bee Plus Detroit, a non-profit organization focused preventing the decline of bee populations and increasing food security in Detroit.

Taylor James- hc8833@wayne.edu
Taylor is a Public Health and Mathematical Economics double major, and she joined the Green Warriors because of her passions for waste reduction and aversion, sustainability, and environmental justice. She hopes to one day combine her love for medicine and law by working to create equitable healthcare and environmental policy, allowing Black and Brown communities to reach socioeconomic autonomy. She is also a part of our Compost Warrior team.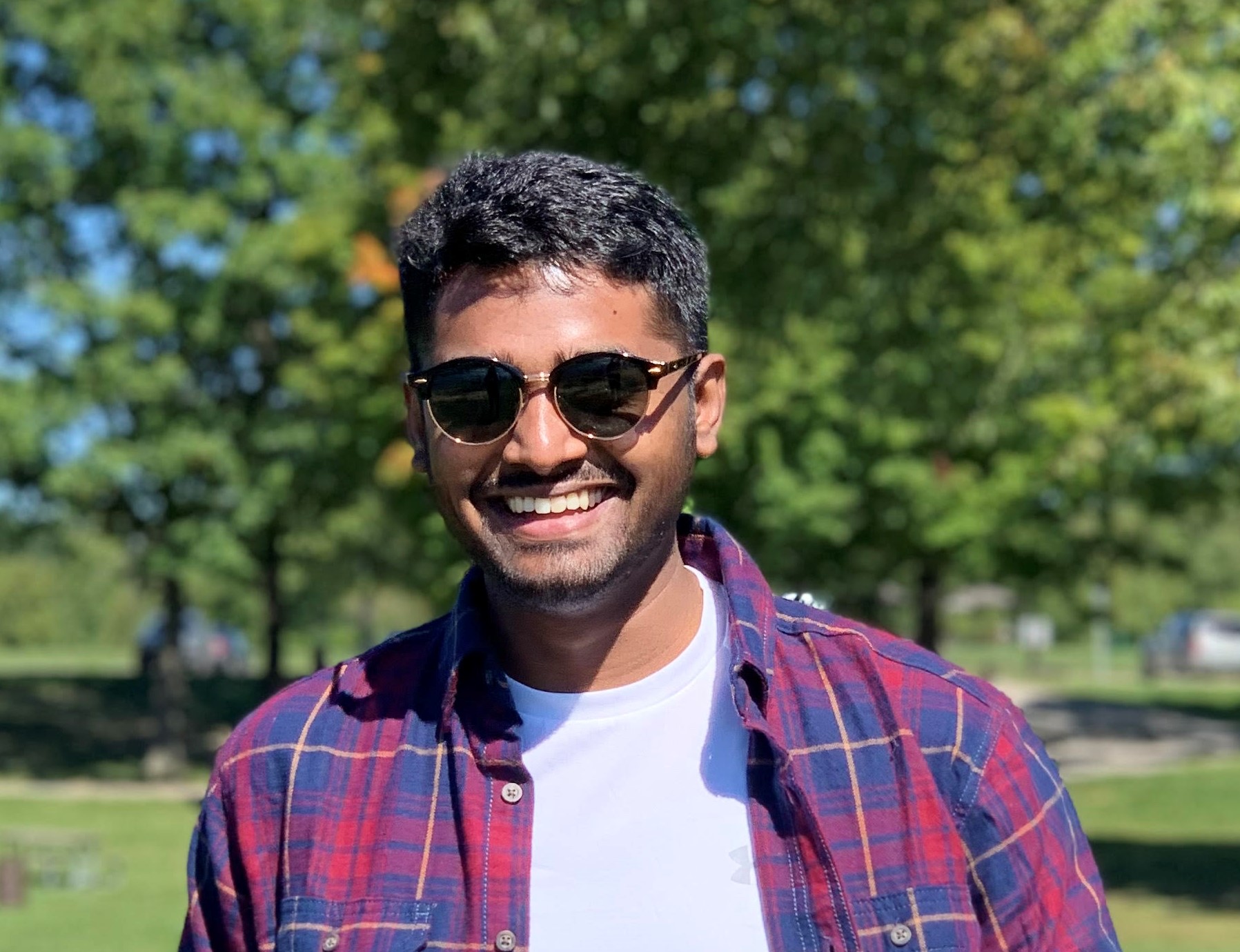 Bharath Janapareddi- hc4765@wayne.edu
Bharath has been a Green Warrior with the Office of Campus Sustainability since Fall 2020. He promotes "Go Green" challenges, such as lifelong environmental protection and sustainable advocacy. He has always wanted to find more ways to be environmentally friendly which brought him to pursue work with our office. He received this opportunity to work as a Green Warrior and has learned much more on sustainable practices and has gained experience working on different kinds of projects.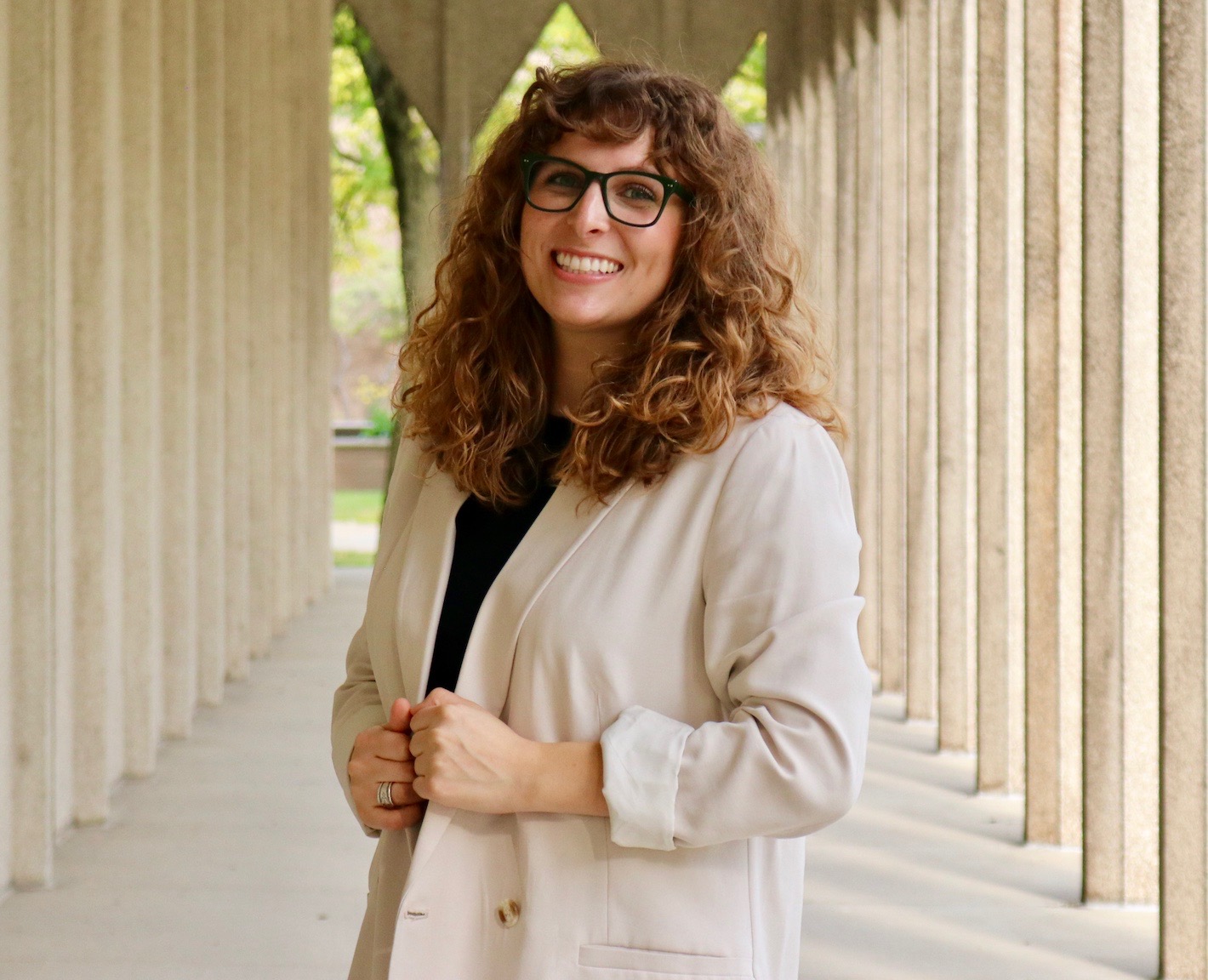 Leah Komos- gg4544@wayne.edu
Leah Komos is an expected spring 2021 graduate studying communication, public relations, and urban sustainability. Through her education, internships, and involvement with the Office of Campus Sustainability, she discovered her passion for community-based urban sustainability, especially in Detroit. Being an experienced communicator, she has witnessed how effective communication plays a key role in cultivating interconnected communities through education and information exchange, making it essential for equitable and sustainable development. After she graduates, her goal is to help advance Detroiters toward equitable opportunities and build healthier, more resilient environments by applying her talents as a communications professional.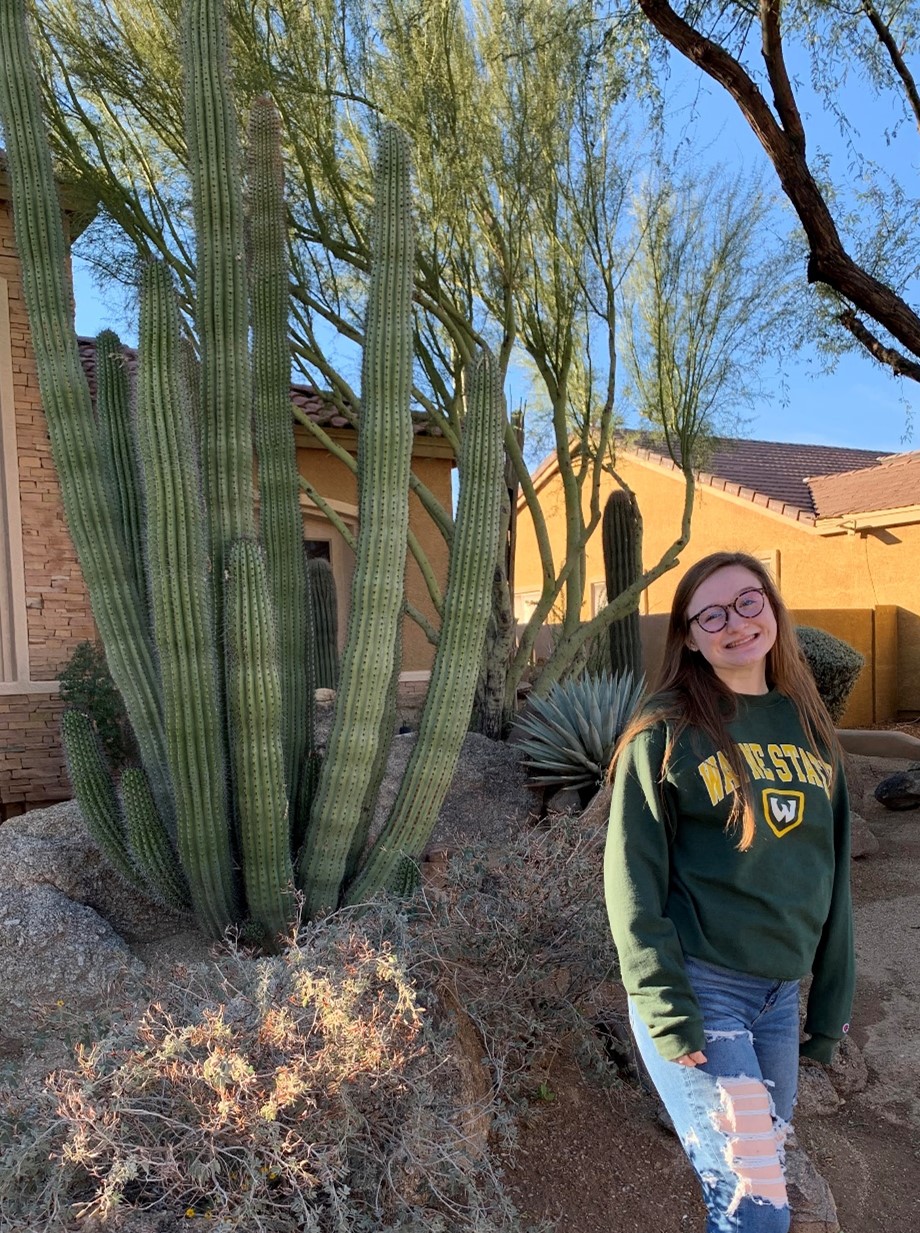 Jenna Steele- gw7741@wayne.edu
Jenna is a second-year student here at Wayne State studying Environmental Science and Public Health. She first learned about the Green Warriors in an early EVS course and loved everything that they stand for.  Sustainability to her is more than keeping the Earth alive and well now, but also creating a foundation for life after our time has come and gone. Her most current endeavor is growing bonsai trees in her dorm along with a plethora of house plants and a mini greenhouse.

  Anoosha Vemulapati- gv9731@wayne.edu
 Anoosha is a sophomore majoring in Political Science and Global Studies at Wayne State. She is   very passionate about sustainability and taking measures to reduce our world and our campus's   carbon footprint. She is very happy for the opportunity to be a Green Warrior and excited to see   where it takes her!
Compost Warriors, Student Assistants
Our compost educator and collector team is currently working on a pilot composting program on campus! They will be collecting food scraps from dining halls and transferring them to the Georgia Street farm where the organic matter will be made into fertile soil. From there, Wayne State's Grounds department will be using this composted soil around campus in a sustainable approach to maintaining the natural environment. If you have questions on this program, please contact Grace Maves at gh1789@wayne.edu for more information. 

Taylor James- hc8833@wayne.edu
Taylor is a Public Health and Mathematical Economics double major, and she joined the Compost Warriors because of her passions for waste reduction and aversion, sustainability, and environmental justice. She hopes to one day combine her love for medicine and law by working to create equitable healthcare and environmental policy, allowing Black and Brown communities to reach socioeconomic autonomy. She is also part of the Green Warrior team.

Lucia Rumery- g21804@wayne.edu
Lucia is a Dance Major and Theater Minor here at Wayne State, and she looks forward to incorporating the arts into our office's compost program as it grows. If you follow our Office of Campus Sustainability account on Instagram (@warriorsustainability), you can see weekly story posts created by Lucia and the team. 

Wesley Treemore- fz3094@wayne.edu
Wesley is a Junior Public Health Major and Psychology Minor here at Wayne State, and joined the program to work on interacting and helping the community that Georgia Street provides food to. He grew up gardening and composting in his own backyard, so he feels right home working with our partners and the other Compost Warriors on this pilot program!
Former Interns
Zoe Pidgeon, Former Intern
Zoë Pidgeon is a graduate with Honors Political Science and Economics with minors in French and Arabic. She became involved in environmental advocacy and organizing in her freshman year as the Chair of the Environmental Action Committee for the Wayne State University College Democrats. As a community organizer, she has had experience organizing students locally and statewide for many different organizations and initiatives. Zoë has worked for the WSU Office of Campus Sustainability since her sophomore year and has helped to spearhead student organizing and awareness efforts on campus. She looks forward to engaging students in environmental advocacy and increasing the sustainability of our campus to support long-term sustainable solutions for our community. 
Email: zoe.pidgeon@wayne.edu 
 Lawrence Greer, Former Intern
I am Lawrence Greer, a graduate from the College of Education with a degree in Kinesiology with a concentration in Physical Education Pedagogy. My immediate aspirations include teaching Physical education and Health in an Urban School District. I became aware of the Office of Campus Sustainability through an interaction with my now colleague Madison at the Wayne State Farmers Market. My passion for sustainable practices is routed my upbringing, as my mother was always an environmental advocate instilling in my sister and I from a young age the importance of practices such as recycling and composting. Since becoming more educated on the detrimental impact of our societies more popular consumption methods are having on our planet my desire to learn, educate and advocate for sustainable practices has grown exponentially. With respect to the communities in which I wish to teach sustainable food systems, energy conservation/efficiency, waste reduction/recycling and alternative forms of transportation are my primary areas of interest. I am proud to be a member of the outstanding team here at The Office of Campus Sustainability!
Email: lgreer@wayne.edu 
Joe Chapman, Former Intern
I am studying Public Affairs and Urban Sustainability and plan to graduate Winter 2020! I have been working within the realm of environmental activism for the last six years. My first introduction was with the nonprofit Clean Water Action where I worked as a field canvasser for a (successful) campaign to restore protections to the 1972 Clean Water Act. I am the founder and President of Take Back the Tap here at WSU, an environmental club working to ban the sale of bottled water on campus. In my free time I like to ride my bike, play music, and go on hikes. 
Email: gg6892@wayne.edu